Bugasura is now integrated with ClickUp
Overview
Bugasura now offers seamless integration with ClickUp, a powerful project management tool, allowing users to effortlessly link Bugasura issues with ClickUp tasks. This integration streamlines the workflow for teams managing project tasks in ClickUp and project issues in Bugasura, enabling better tracking and synchronisation between the two platforms.
Introducing ClickUp Link Integration:
We now provide a ClickUp Link integration feature, allowing users to establish a connection between Bugasura projects and ClickUp workspaces. This integration simplifies issue tracking associated with ClickUp tasks, making it easier for teams to manage their projects effectively.
Why should you use it?
The Bugasura-ClickUp integration eliminates the need to switch between platforms, allowing for seamless collaboration and improved productivity. With ClickUp Link, you can easily link Bugasura issues with related ClickUp tasks, ensuring all project components are connected and organized. This integration enhances visibility and coordination, enabling teams to stay on top of their work and deliver projects more efficiently.
Steps to follow
To set up the ClickUp Link Integration in Bugasura, navigate to the Project Integration Page and select the "ClickUp Link" option.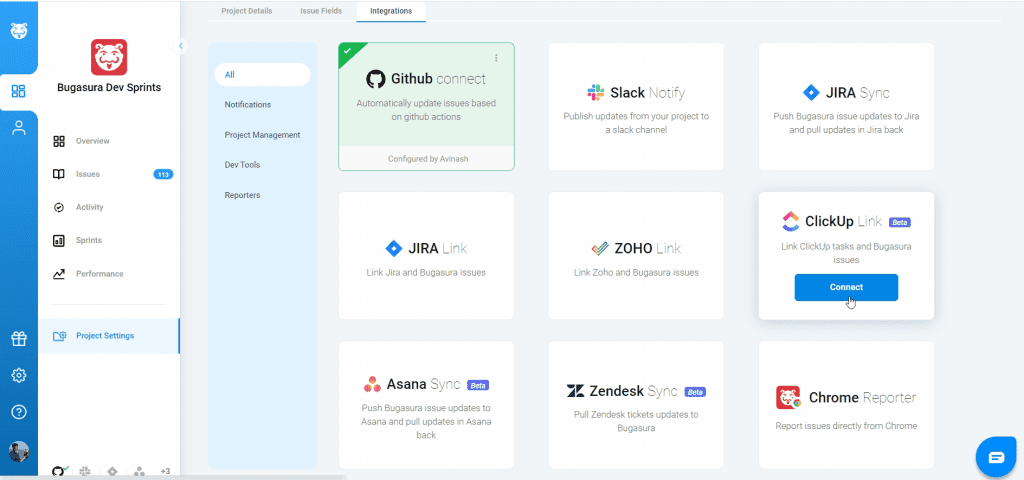 This will open the ClickUp Integration wizard popup. In the first step of wizard, you will need to enter your ClickUp account's API token.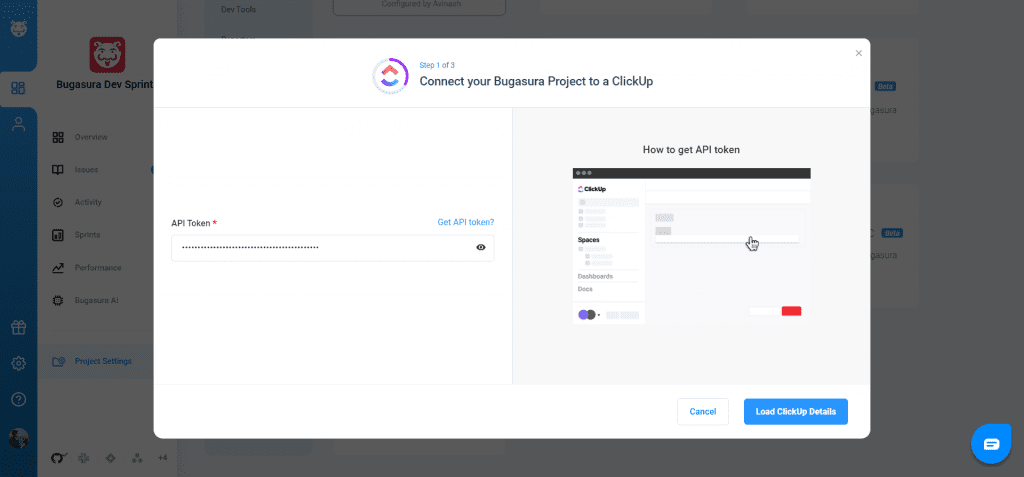 In the next step, select the desired ClickUp workspace, space, and list from the dropdown. Once you have completed the configuration, the ClickUp Link Integration will be established for your Bugasura Project.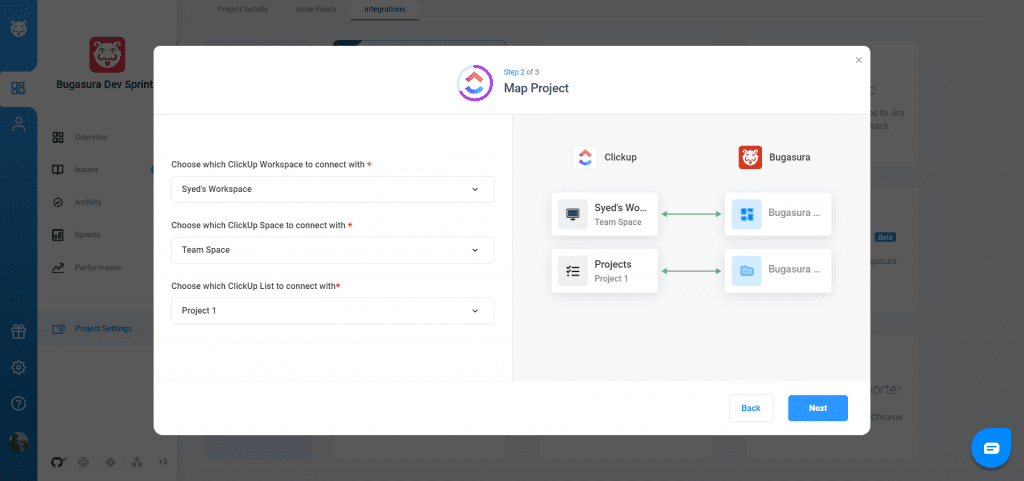 Please note that you must be the Admin of the team to integrate ClickUp for the project.
Usage:
After integrating ClickUp Link with your Bugasura Project, you can easily manage your project tasks and issues. In the issue details popup, you will find a ClickUp Icon in the Link Issue section.
By clicking on this icon, you can view a list of all ClickUp tasks. Select the relevant ClickUp task to link it with the corresponding Bugasura issue. The linked ClickUp task's name will be displayed in the Bugasura issue. To unlink a task, simply click on the Unlink icon.
If you want to link the issue to another ClickUp task, select it from the ClickUp Tasks List in the Edit dropdown. Additionally, you can open the ClickUp task in a new window by clicking on the Open ClickUp Link icon.
To manage the ClickUp Link Integration settings, use the ClickUp Link Settings popup on the Project's Integration page. This allows you to enable or disable the integration according to your needs.
In ClickUp Task's details, there will be a custom field called 'Bugasura Issues' which will have the Linked Bugasura Issues IDs and links. With ClickUp Link, you can effortlessly track, manage, and coordinate your Bugasura issues and ClickUp tasks for improved project collaboration.
Bugasura also integrates with other project management tools like Asana, JIRA, and Zoho Projects. Explore the project settings section to check out all integrations.