Bugasura is now integrated with Asana
Now, you can use Asana and Bugasura fully in sync and manage your projects seamlessly. Save time with our all new plug-and-play integration with Asana.
Overview
Asana is a work management platform designed to help teams organize, track, and manage their work. If you're using Asana to track bugs, it can become difficult to manage issues on a project management tool. If you're using any bug tracking tool along with Asana, you would have to create a bug on the tool and then create a task in Asana. You would also need to update the details on both platforms when there are updates.
Introducing Asana Integration
Now, you can Integrate Asana with Bugasura Project and sync the issues, automatically. The integration works in a way that new issues in Bugasura will automatically get populated on Asana. Also any updates you make to the issue on Bugasura will automatically sync to Asana.
Why should you use the Bugasura Asana integration?
If you want to save time, avoid double and manual work of updating tickets, and bring your issues to closure faster, choose this integration to make your life easier.
How to set up the integration?
Step 1: Head to your Bugasura dashboard and click on the project you want to integrate Asana with. If you're new to Bugasura, see how projects work here.

On the project integration Page, there will be an Asana sync option. By clicking on it, an Integration Wizard popup will open.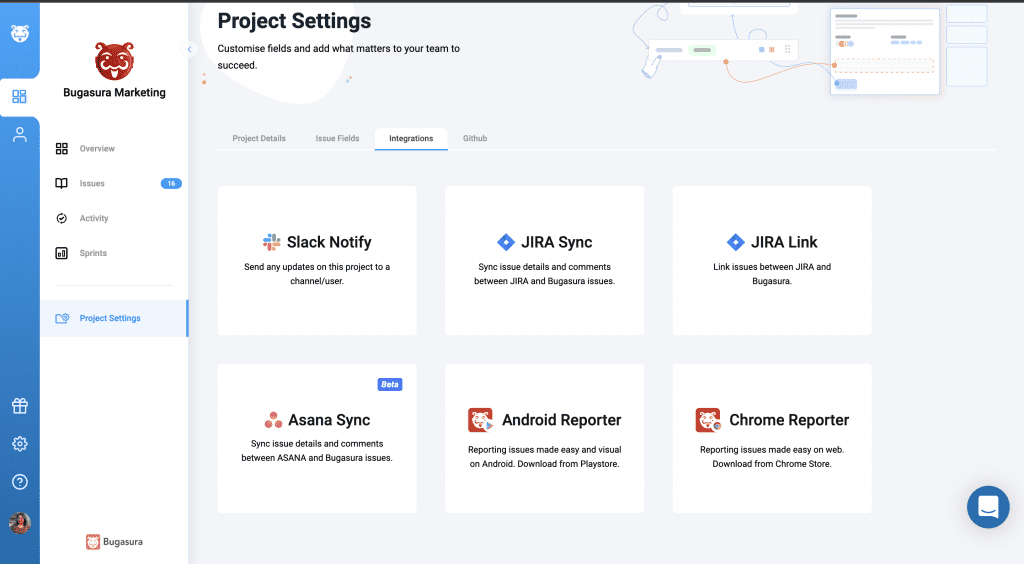 Step 2: Enter the Asana access token from your Asana account. You should be able to locate this in your settings section.
Step 3: In the next step, select the Asana Workspace and project with which you'd like to integrate Bugasura on. You can map Asana Project field with Bugasura Project field.
Step 4: Now, you can select the issues which you want to Sync. You can select the Auto Push option to sync all the existing issues and future issues automatically. After doing this, the Integration will be completed.
Watch the video below to see the set up in action:
Note that, you have to be the Admin of the team to Integrate Asana for the Project.
Using the Bugasura Asana integration
You can sync issues with Asana with Bugasura manually for the first time too.
All you have to do is select the issues and click on the Asana Icon. The same Asana Integration Wizard popup will open and you can sync the selected issues.
After the issues are synced with Asana, the changes made in issues will automatically update in your Asana project.
Bonus: you can see the Asana Sync Logs in the Debug Logs popup by hovering on the Logs icon if you have enabled the Debug Mode on the User Profile page. See how to use Debug mode for Bugasura integrations here.