Find your GitHub Connect on Bugasura
Overview
The Bugasura Github integration was previously available on team integration pages and project integration pages, but the flows confused our users. To avoid this confusion, we have now moved GitHub integrations to the project integrations page to make it easier for users. The functionalities remain the same.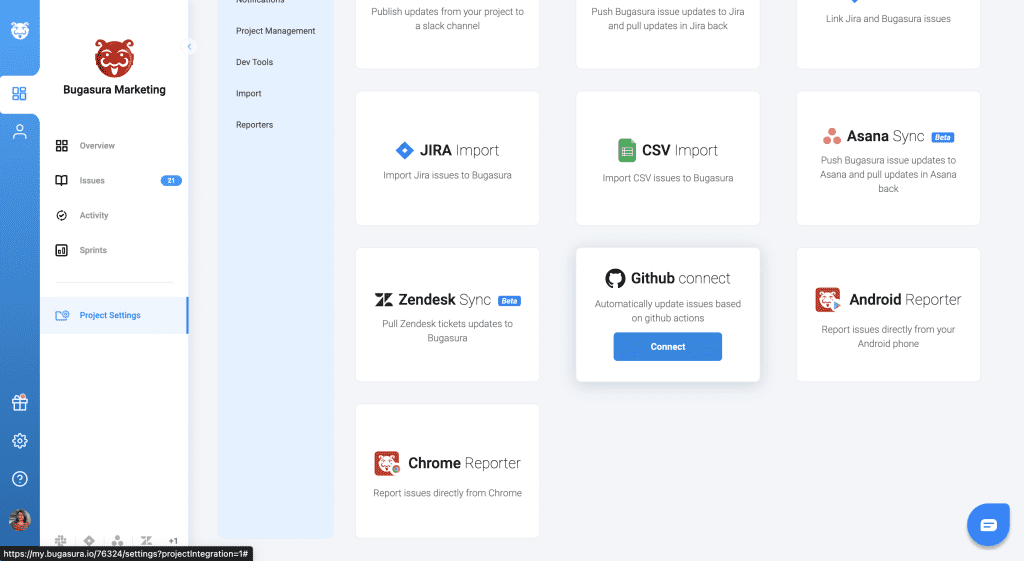 Why connect your Github to Bugasura
It reduces the time developers and testers spend on bug tracking and updating issue status. If you integrate GitHub to your Bugasura project, it will automate that task. You can read more on how the Bugasura-Github integration works here.
How to set up your Github Connect
Step 1: Log into your Bugasura dashboard and click on any project. Then click on project settings.
Step 2: In the project settings click on Github card to connect your Github account.
Note: Only project admins and owners can connect to their Github.
2 cool ways to use Github Connect on Bugasura
At Bugasura, we believe your work should be faster and collaborative. In case you missed it, check out these two magic ways to use Github with Bugasura and close bugs faster!
Want more from your Github integration? Let us know what you'd like us to build for you in the comments below.