2
minute read
What does the future of testing remotely look like? Will it be the 'new normal' or is it only the 'current reality? Here is how testing remotely will impact various nuances of the testing world.
Test Infrastructure
– People won't build their own test infra device labs.
– Headspin Browserstack Saucelabs Lambdatest pCloudy TestProject for the win.
Automation
– Cloud lab providers and framework developers will find a mid path to co-exist.
– People write lesser and more useful automation code.
Quicker feedback loop
– Non / less coding A.I / M.L fast feedback will find a mega use.
– Testim, testai, Applitools for the win.
Exploratory Testing
– Bug bashes, everyone participating in testing.
– Testbuddy and Bugasura bug tracking tools are for the win.
Learning & Interviews
– Community-driven, Assessment-driven online learning platforms will become important.
– MoT, Test Automation University, Test Leaf, Automation Step by Step for the win.
Multi geo testing
– Time for niche service players in this space.
– Headspin and Applause for the win.
Services
– Testing and Tester savvy culture wins.
– Thoughtworks, Moolya Testing for the win.
Management
– Visibility tools, test coverage analytics & decision dashboards have to be reinvented.
– Smartbear, Tricentis, Bugasura bug reporting tools for the win.
Testing Conferences
– Highly engaging, fun driven, relaxed online conferences is the future.
– Test Bash Home & TheTestTribe for the win.
Some of us have opportunities right now to create something new, to shape our inner and outer worlds into something better. If you're in a position of privilege to know that you and your loved ones are safe, in all manner of what that word encompasses, and you have the capacity to embrace this current reality in positive ways, I am happy for you.
But that doesn't change the reality for so many other people, for whom this isn't possible.
All of this uncertainty and fear and worry.
None of it is normal.
YOU MAY ALSO LIKE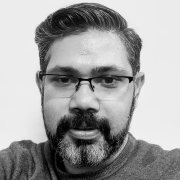 Pradeep Soundararajan is the Chief Servant to Employees and Customers of Moolya Testing, a company he founded. He has been a Tester, Independent Consultant, Test Tool Developer (using Perl), Test Coach, Test Management Consultant and Product Owner of Testing Tools and then transitioning to a businessman. Pradeep is the author of the book Buddha in Testing. Pradeep is also leading bugasura.io - an issue tracker for fast-moving SaaS teams. Too much about him. He is who he is because of the people. He is living a life that can be represented in one word - Ubuntu. Many good people make him.