Introducing: Pin Issues on Bugasura 📌
Overview
Accessing a particular issue in the issue list page could become difficult if you haven't saved filters. This is especially a problem if you have a large number of issues. You would either have to choose from the page numbers below or find an issue with the search option.

To make finding issues easier, we have launched the pin option which allows you to pin important issues to the top of the issue list table.
Introducing Pin Issues on Bugasura


Now, you can pin any issue on the project issue list page, and it will always appear at the top of the issue list table.

Why should you use the Pin Issue on Bugasura?
If you're working on some critical bugs and need to constantly monitor it, you can choose to pin it to the top. This gives you easy and faster access to priority issues.

How to pin issues on Bugasura?
Step 1: Log in to your Bugasura dashboard and head to any project.
Step 2: Hover on any issue to see a pin option at the end of the row (see picture above). Click on it, and that issue will be pinned to the top of the issue list table. You may also unpin the issue by clicking on the same icon.

We also have an option of pinning and unpinning projects on your Bugasura dashboard. Just login to your dashboard and hover on any project. You should be able to see the pin option on the project card. You can also favourite a project.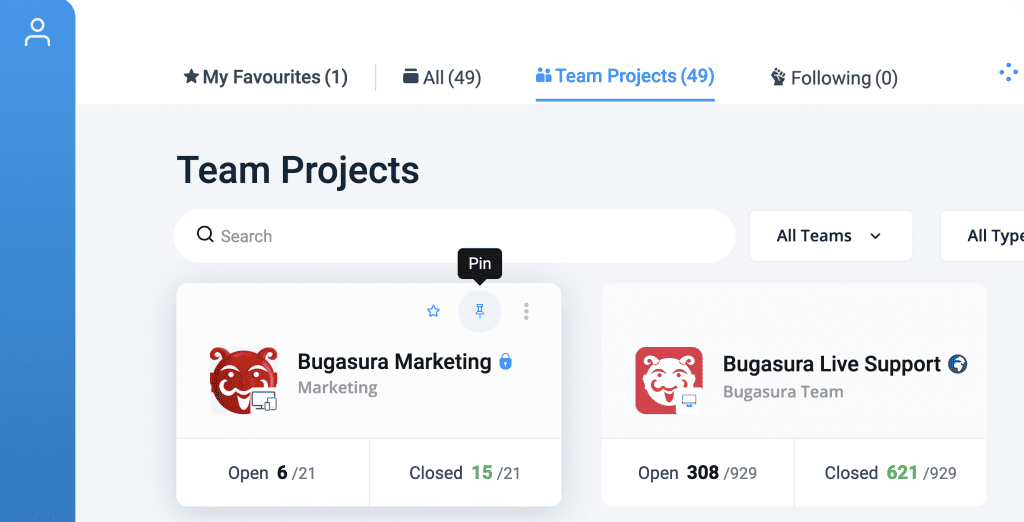 Start pinning issues and projects on Bugasura to save time and close bugs faster.