Invite users while creating new projects in 2 clicks!
Looking to add new team members to your existing Bugasura projects with ease? Now you can do this in just a couple of simple steps.
Overview
Previously, while creating a project in the project List page, there was no option to Create New Team or invite users to an existing team.

If you want to create a team and add a project to it, then you'd have to create the team first in the flow below:
Settings > Teams Manage Page > Invite users to new team. There was no option to create new team or invite users while creating a new project. To solve for this, we introduced a shortcut that can help you do this more intuitively.
Introducing Create New Team and Invite Users options in Create Project Popup
Now, on the Create New Team option in the Create Project Popup you can directly add new team members and invite users while creating the project. Also there is an option to Invite users to an existing team if the current user is admin of the team.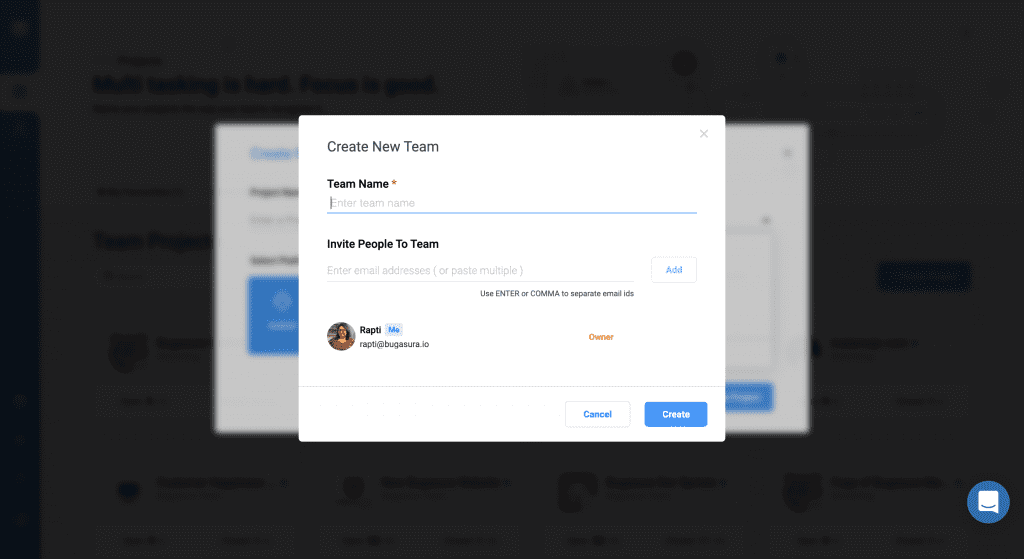 Why use the new team invite improvements?
This improvement is introduced so you can add a new project to a new team directly in one flow. Why navigate around to settings when you can do it in two clicks in the same flow!
How to use the new team invite options
Step 1: On your Bugasura dashboard, click on Create Project, which will open a popup. There, you can Create New Team option in the Teams Dropdown.
By clicking on this option, a popup to create new team and to invite user will show.
Step 2: Invite team members you want to add to your team. Also, there's an Invite User option. You can only see this if you're the admin of the selected team. By clicking on this, an Invite User popup will be shown and you can invite new members to the team.
You're set!
Now, you can create new team, invite users and then add new project to that new team directly through Create Project Popup. Also, if you want to invite members to the existing teams before creating the project, that also can be done in the Create Project Popup.
Ready to collaborate with your team and close bugs faster?